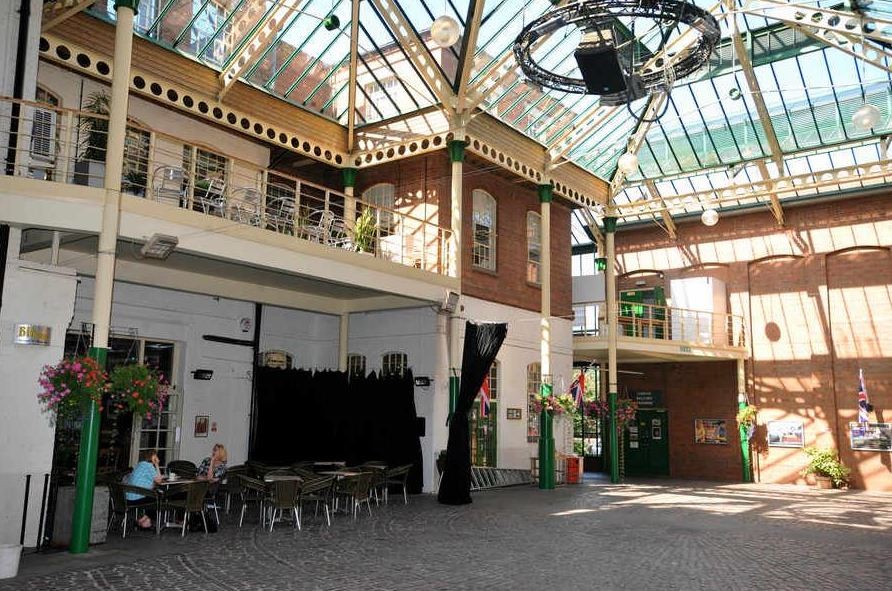 The large, indoor cobbled atrium with an impressive high glassed roof is both modern and quirky, filled with sunlight during summer days and can be lit by candles or festoon lighting in the evenings.
We think you'll find It has definitely got the WOW Factor!!
The space is unheated, so best hired between April and October for events unless weather conditions are taken into account.
Our courtyard cafe tables and chairs can be lit with tea lights, for a very special ambience once the light starts to fade and the mood changes, from sunlight afternoons to chilled out evenings!
We have tested the boundaries of use of this wonderful space, and are always open for new
and exciting ways to push this further, so contact us today and let's see what we can do!
The space is a blank canvas to get your creative juices flowing for the ultimate look you are looking for to hold your special event.
We have hosted international festivals such as Deaffest, vintage fairs, Product launches including having F1 and classic vintage cars on display in the courtyard, hosted a live debate working with Channel 4 news, housed large scale Halloween parties where event managers have used their imaginations to create indoor marquee areas and not to mention the creative use of the space for wedding receptions and parties, club nights, everything from a Star Wars theme to food fayres, music events, the list is endless!
For live music and dance events, we can hire dancefloors, staging and PA systems.
Seating and tables can be hired by clients for dining/seated events with a guide capacity of up to 160 depending on layout.
For standing party events, we can allow up to 300-400 guests by special arrangement, however teamed with the gallery and bar, there is potential to increase this capacity further.
Please note that security must be booked for parties over over 70 people. Costs are available on request.
Examples of use include:
Business Exhibitions, Product launches, Networking Events, Theatrical Productions, Vintage Fairs, Festivals, Parties, Wedding receptions and other social bookings, Proms, Markets, Food Fayres, Beer Festivals, Product and Car Launches and much, much more!
To book, or for more information, contact Kelly Jeffs or Jas Kapur on 01902 716055 or via email at
kelly@light-house.co.uk / jaskapur@light-house.co.uk
Let's work together, let's make your event really special!